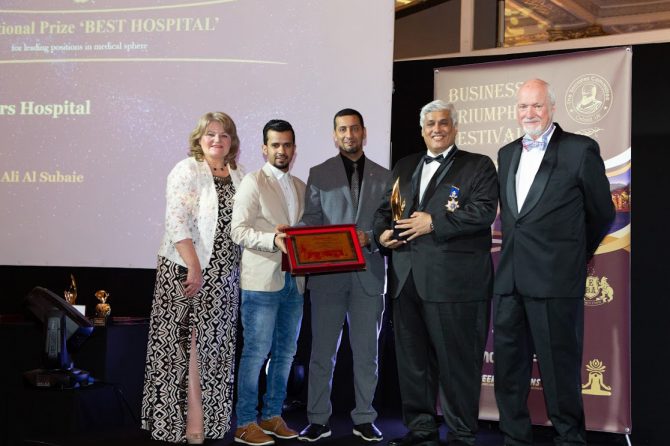 In recognition of the hospital's pioneering approach to quality and excellence in delivering health care services, and by passing through strict arbitration criteria from an international judgment commission, the United Doctors Hospital was selected by the European Awards Organizing Committee in association with the European Medical Association, for the Best Hospital in 2018 Award for the Middle East's most advanced and growing healthcare providers, and achieving sustainability standards in the healthcare sector.
The hospital was honored by many international companies and authorities on the sidelines of the annual conference, held in Cannes, France, on October 5, to distribute the Global Club of Leaders awards. The award was delivered by Prof. John W.A Netting, Chairman of the Nominating Committee, and Executive Chairman of the World Leadership Club.
The award was received by the Director-General of the United Doctors Hospital, Mr. Ali Bin Salem Al-Subaie, who thanked the International Leadership Club and the European Medical Association for selecting the hospital among the most developed and applying the quality and sustainability standards in the region for the year of 2018.
He mentioned at the press conference held after the conference that the hospital pays special attention to compliance with the highest quality standards in the provision of health care services, as well as adopting environmentally friendly practices and adopting sustainability and transparency standards in the business, and that's by release of the annual sustainability report in accordance with the UN's Sustainability Reporting Standards (GRIs), In order to promote business and provide more sustainable health products and standards that preserve the rights of the patient and help to rationalize the consumption of resources and preserve the environment.
Leave a reply