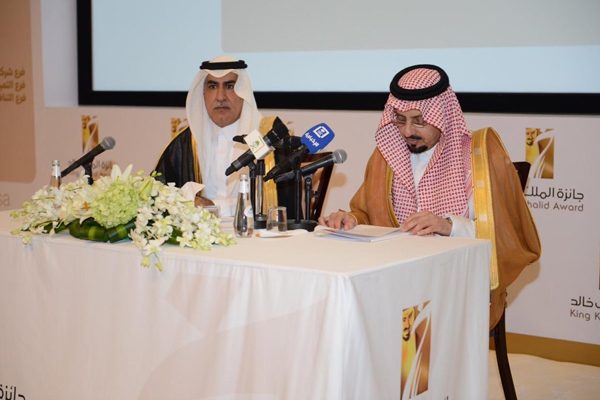 His royal highness, Prince Faisal Bin Khalid Bin Abdul-Aziz, Prince of Asir, chairman of King Khalid Award committee, announced the winners of The Award for the year 2018 in its three categories: "Development Partners," "Excellence for Non-Profit Organizations" and "Responsible Competitiveness." That was at the press conference his highness held this evening at the headquarters of the King Khalid Foundation in Riyadh.
In his speech on this occasion, his Highness said that King Khalid Charitable Foundation embraced achievement prosperity by activating the role of the development partners, as well as empowering them through social investment and building capabilities to ensure the emergence of a Saudi community with equal opportunities, where its organizations and individuals seek an effective contribution. Based on this principle, King Khalid Award, by its three categories, emerged as an interaction compatible with vision 2030, through supporting social initiatives and national private non-profit enterprises and enabling them to adopt best practices of sustainable development work, which makes it able to continue in making achievements and continue to support the development of our dear homeland.
His Highness pointed out that within the coming years, the award is intended to expand through the involvement of the United Arab Emirates, Oman, Bahrain, and Kuwait in the award and competition. Congratulating the winners of the three categories of the award,
his Highness announced the winners of the three categories of The Award.
As for "Development Partners"; (Alhasalah) initiative won the first place, (Adam Campaign) initiative came second and (My Book Club) initiative came third.
As for "Excellence for Non-Profit Organizations"; (Al-Kawther Health Charity Association) won the first place, (The Family Development Association in Al-Madinah) came second and (The First Women's Charitable Association in Jeddah) came third.
His Highness also announced the winners of "The Responsible Competitiveness" where Saudi Huawei Company won the first place, The National Petrochemical Industrial Company came second, and United Doctors Hospital came third. This award is granted to the entities that excelled in the field of sustainability, where it aims to encourage private sector entities to adopt leading practices in responsible competitiveness and to activate the role of the private sector in the development of society.
It is indicated that the selection of United Doctors Hospital was done given the hospital's pioneering practices about community partnership programs as well as the systems and initiatives it adopts by investing the time and financial resources to implement innovative programs in line with the hospital strategy. The hospital also issued the first sustainability report for 2018, Consistent with global Sustainability Reporting Standards "GRI."
It is indicated that all the winners will be honored at the ceremony which will be held in November, under the patronage of the Custodian of the Two Holy Mosques, may God protect him, in the capital Riyadh.