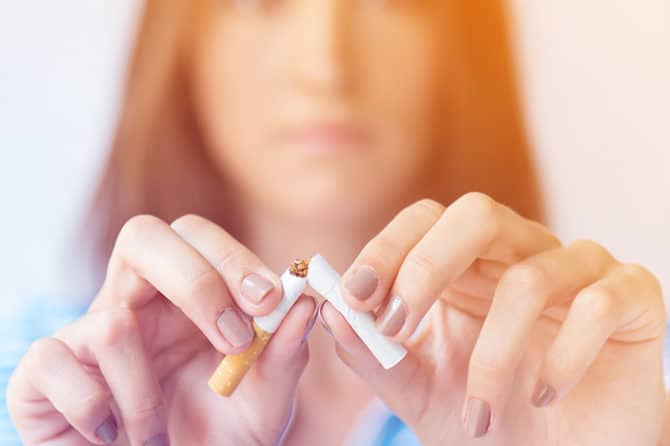 SMOKING IS AN ENEMY OF THE BEAUTY OF WOMEN AND THEIR YOUTH
Smoking is a bad habit that spread among the societies for a very long time, and while smoking was formerly limited to men, we currently found that this phenomenon is also spreading widely among women, due to several factors including misleading advertising promoting smoking among women, misconception that smoking keeps women fit, women attempts to free themselves from traditions and following fashion trends, imitating famous women in the artistic circles.
Although smoking adversely affects the health of both men and women, but its effect to women's health is far more than men, exposing them to many risks, especially during pregnancy, such as premature birth, abortion, placental problems and congenital disabilities.
On the other hand, smoking adversely affects women's beauty and femininity, as studies have shown that smoking has adverse effects on multiple beauty aspects that are considered the core of women's beauty, including:
Skin: smoking affects the levels of skin moisture, and in turn, the skin becomes rough and pale, including that there is evidence showing a connection between smoking and acne, and the connection between the increased rates of having psoriasis among women smokers more than nonsmokers.
Eyes: levels of carbon monoxide in the blood increase in women smokers, which reduces the troy of sensitive areas surrounding the eyes and in turn affects the cells regeneration in this area causing the pale appearance, what is worse, that smoking affects not only the eyes surrounding areas but also the eye luster due to poor secretion of tears and constant irritations to the eyes because of smoke rising from cigarettes.
Aging: smoking is considered the main reason for advancing aging symptoms among women, as it affects women's different beauty aspects making the smoker woman looks 20 years older than her peers from the same age group.
Voice: women's view is one of the main pillars to her femininity, and smoking affects adversely women's sound, so her voice becomes husky and rough due to chronic laryngitis and persistent irritation that the throat and vocal cords are exposed to through cigarette smoke.
With the prevalence of smoking in its different forms increasingly among women, there is a persistent need to take awareness and educational measures focusing on women's smoking in particular, to increase awareness related to its adverse impacts for women's health and beauty, and to obliterate the wrong concepts and misleading advertisements that promotes for smoking, and to confirm the lack of any connection between women's femininity and smoking but the truth is entirely the opposite.
Leave a reply