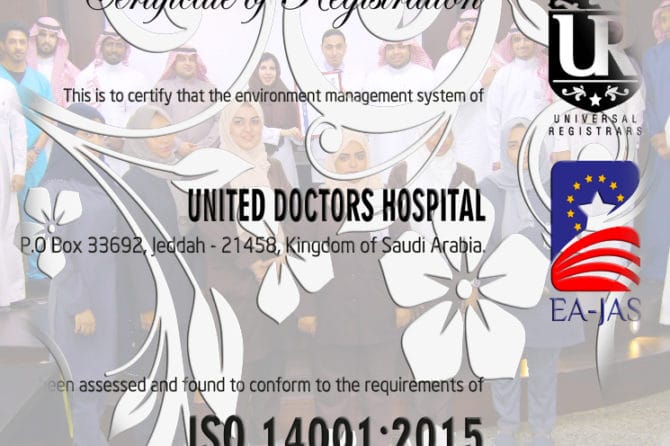 A new achievement to be added to the serious of success achievements achieved by United Doctors Hospital in terms of its commitment toward quality and sustainable development, the hospital obtained the accreditation of the EA-JAS and Universal Registars for Quality of the Environmental Management System ISO 14001:2015, as a validation of the quality and efficiency of the hospital's environmental management system in providing health care services to its clients.
On this occasion, Mr. Ali Bin Salim Al Subaie, the General Director of United Doctors Hospital, congratulated the Chairman of the Hospital and thanked all the hospital's employees for the significant efforts exerted by each one of them to participate in fulfilling the requirements, adhere to the standards and being responsible toward our role as individuals and establishments in preserving the environment and enhancing the living conditions for future generations.
Mr. Subaie said: much work has been done in order to establish our Environment Management System in its place, and it is encouraging that we managed to reach this stage of awareness toward environmental issues, and I am convinced that we will contribute in making our surrounding environment, by our daily work and everyone's effort, more pure and safer for our clients and the local citizens. This hospital trend toward adopting sustainable development strategies stem from our commitment of the approach put forward by our wise leadership within 2030 vision, to achieve sustainable development goals and make our environment more pure and appropriate for future generations.
United Doctors Hospital Obtain ISO 14001 Accreditation for Environmental Management
Safe Environment and a vision for a better future For future generations

Noting that the Environmental Management System ISO 14001:2015 is considered one of the most important international standards in measuring organizations, bodies and companies compliance toward the environment, it also measures the quality and efficiency of the Environmental Management System applicable at the facility.
It is noted that, the hospital apply a strict program in managing internal and external environment of the facility through possession of special systems and applications for disposal of medical waste, waste sorting and recycling, and reduce pollution and dangerous gases, with continuous measurement for carbon dioxide rates inside and outside the facility, and taking multiple measures that reduce greenhouse gases and the prevention of using mercury in all hospital equipment and services.
The hospital also implements environmental policies that help to reduce waste of energy and water use, and to decrease the usage of environment harmful materials, and encouraging suppliers to follow the procedures which help in preserving the environment and using reusable materials or recycling, and continuous awareness about our role toward the environment and the importance of each individual role in protecting the environment.
The hospital also adapts green technologies through the use of solar cells to generate energy for some hospital facilities and also recycling food waste to convert them into fertilizer that can be used in a forestation the areas surrounding the hospital.
Leave a reply