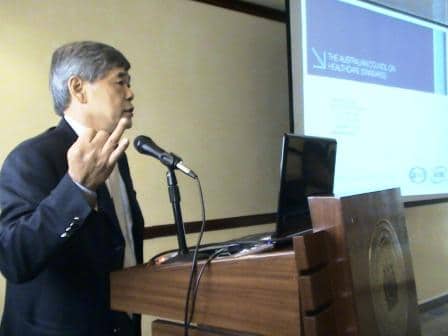 Australian Visit by Dr. Desmond Yen-ACHSI Executive Director for International Business
After the first visit on early 2009, the Australian Council of Healthcare Standards International (ACHSI) Executive Director, Dr. Desmond Yen visited again the United Doctors Hospital (UDH) last October 12 to 14 for 3 days meeting & activities. That visit was related to the Consultation Survey of the UDH on November 22-25 of the current year and for its Organization Wide Survey (OWS) on May 2010.
For the second time, Dr. Desmond Yen had a meeting with the UDH Director General, Mr. Ali Salem Al Subaie, the hospital executives & the Total Quality Management (TQM) Department Director Dr. Bassel Ayoub Ali. During his visit, Dr. Desmond Yen conducted a lecture for UDH staff giving brief information about the ACHSI & what are the benefits that the organization & its staff could achieve after the accreditation program.
The current systems, procedures, rules & policies of the UDH have been checked by the visitor as well as the whole hospital facilities & most especially the services offered to the community.
Finaly, Dr. Desmond Yen expressed an unexpected trust to the United Doctors according to what he had observed & experienced that would make the whole team & administration to further pursue its endeavor to get the Australian International Accreditation.